Here at Keep It Clean Pressure Washing, one of the most common questions we're asked is, "how much does it cost to pressure wash a house?" Over time, dirt and grime can soon build up on your exterior, which not only makes it look unsightly but can also cause materials to degrade.
Cleaning the exterior of your home will remove this dirt, keeping it looking its best and boosting the lifespan of wood, glass, and brick materials. On average, the cost to pressure wash a house ranges from $0.10-$0.50 a square foot, although this will vary depending on the size of the property. To help you, we thought we would take a closer look. 
Before we do, if you need help with your exterior cleaning project, our experienced team is here to help you. Discover what makes us the best local cleaning provider in the area and get in touch for your free estimate.  
Pressure Washing Prices and Variables
Pressure washing prices are dependent on a wide range of factors. Typically, the average power washing prices range between $0.10 to $0.50 a square foot. However, there are certain factors that you will need to be factored in, including the overall size of the property, the materials in need of cleaning, and the number of stories. 
Our experts are able to take care of all exterior cleaning projects, so get in touch for your free quote to find out how much your property will cost. 
Power Washing vs. Pressure Washing 
When it comes to the cost to pressure wash a house, knowing the difference between power washing and pressure washing is vital to ensure you prevent damage.
Power washing is a cleaning method that utilizes hot water (and cold water in some cases) to remove dirt as well as organic matter such as algae and mold. It is often used for driveways, gutters, decks, and patios. 
Pressure washing is very similar, except it typically does not utilize hot water.  This makes it equally as good at removing dirt and grime, although it might take a little longer for those substances that are firmly stuck on. 
Not sure which option your home needs? Get in touch with our local cleaning experts, who will be happy to help you! 
Pressure Washing Rates 
The cost to pressure wash a house will vary depending on what materials you need to clean. The prices will vary depending on a range of factors, including the size and difficulty of the property. Here are common pressure cleaning rates:
Prices per Square Foot
The price per square foot to clean your home is .10 to .50 per ft depending on difficulty.

For example, a 2,500 square foot house would normally cost around $250 to $500 depending on the difficulty of the property. 
House
In need of house washing? The costs will be .10 to .50 per ft depending on difficulty. Usually these start at $225 and go up from there.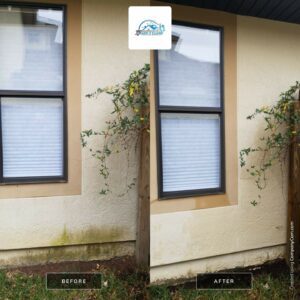 Driveway 
Your driveway is the first thing visitors will see, so keeping it looking its best is essential. The cost to clean your driveway starts from .15 per sq ft.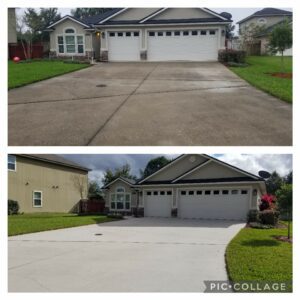 Concrete 
No matter whether you need residential or commercial concrete cleaning, our team has the expertise to help you! Our prices start from .15 per sq ft.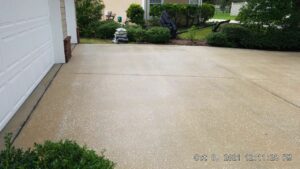 Fence
Is your fence looking a little worse for wear? Transform its appearance with our fence cleaning service. Prices for fence cleaning depend on the length of the fence and how dirty it is. 
Commercial 
Alongside transforming your home, Keep It Clean Pressure Washing can also give your commercial property a new look. Prices for commercial properties have to be quoted after reviewing the job site. 
Need a hand with your exterior cleaning project? 
Leave the difficult, dirty work to a pro. Get a quote from the best local exterior cleaning expert in your area. 
How to power wash a house 
Now you have an idea of pressure washing prices, it is time to look at how to power wash a house. The first thing to do is to cover any greenery or areas that could be damaged. From there, you can then pre-wet the area before applying the soap mix using a low-pressure setting. 
Let the soap get to work on the dirt and grime before rinsing off, again using low pressure. When cleaning your home, make sure you are working the soap from top to bottom to avoid getting clean areas dirty again. Make sure to always rinse the area from top to bottom as well. 
Pressure washing hazards 
There are many hazards to remember when pressure washing your home, which is why it is always advisable to leave it to the professionals. One of the biggest areas to watch out for is open electrical outlets, as this could trip a breaker. You should also take great care not to spray near anyone else, as the power of the jet could cause cuts and damage. 
Of course, power washing hazards are not just limited to personal injury. An open or cracked window or a missing vent can allow water to enter the property and cause significant damage to your belongings. 
Tips for hiring pressure washing services 
While the overall cost to pressure wash a house will be a major factor when choosing your chosen provider, it should not be your only consideration. When finding the right partner to help you clean your home, you also want to look at:
Independent reviews are a great way to understand the experience of other clients. This will give you complete peace of mind that your property is in the best hands possible. 
Another vital tip is to make sure that your chosen provider has an updated and comprehensive insurance policy in place. While these skilled experts will know exactly what they are doing, accidents can happen, so you want to ensure you're protected. 
A picture can speak a thousand words, so don't be afraid to ask your chosen provider for any examples of previous projects. This will allow you to clearly see their work and whether it matches what you are looking for. 
If you are in need of expert pressure washing, Keep It Clean Florida is here to help you. Our experienced team has over two decades of residential and commercial cleaning services, and we pride ourselves on delivering the very best experience possible for our clients. So no matter whether you need World Golf Pressure Washing, want to transform your home, or give your commercial property a new look, get in touch for your free estimate today!